Eyeletting Services
Finishing Services
Other Links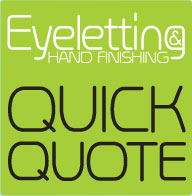 Privacy Policy
Whitney Woods is committed to protecting your privacy and ensuring you have a positive experience on our websites
Personal Information gathered by www.whitneywoods.co.uk, www.whitneywoods.com, www.popupmailers.co.uk, www.christmasmarketing.co.uk, www.mailbyhand.co.uk, www.hand-finishing.co.uk, www.popupcrafts.co.uk is controlled by Whitney Woods Ltd, located at:
Victoria Works
Hill End Lane,
Rawtenstall
Lancashire
BB4 7AG
Information Collection and Use
Whitney Woods Ltd is the sole owner of the information collected on the above sites. Data that you provide will only be used by Whitney Woods Ltd, andassociated companies working on behalf of Whitney Woods Ltd. We may wish to contact you regarding our products, services, offers, technical developments or your opinions which may be used for marketing, research or analysis purposes.
Whitney Woods Ltd collect the following types of information:
Contact Details
We collect your contact details when you:

• Request samples
• equest prices
• Request a call back
• Request a reminder from us about our products
• Respond to a campaign
• Submit a question to us or provide us with feedback
You are provided with an opportunity to opt out from receiving communications from us or our associated companies at the time that your details are submitted.
Session Cookie
Our site makes use of  session cookies. Session cookies are stored only in your browser's temporary (cache) memory and are deleted when you shut down your web browser. Session cookies ensure that your shopping cart is not lost while requesting samples. Our session cookies cannot be "read" by any other Web servers, meaning that you cannot be tracked or profiled using our cookie when you surf across multiple sites on the Web.
Access to and accuracy of your Personal Info
If you would like to update the information we hold for you or alternatively, change the methods by which you would like us to contact you or if you would like to have it removed from our records please contact us at info@whitneywoods.co.uk