Eyeletting Services
Finishing Services
Other Links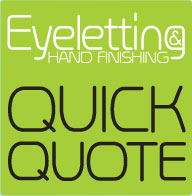 Print Finishing Services
Specialists in Eyeletting and Hand Finishing
Print Finishers - Supplying Print Finishing Services, Eyeletting and Hand Finishing Since 1992
Since 1992 Whitney Woods has been supplying print finishing and hand finishing services to the print industry. It all started when we bought one eyeletting machine so that we could eyelet tags for a local printer. Suddenly, we were print finishers – well, we had done a little bit of trade eyeletting at least, which would eventually lead to Whitney Woods becoming one of the leading eyeletting specialists in the  print finishing trade in the UK! However, back to the story, we decided to take another step down the road to becoming print finishers – in particular, hand finishers - but knowing little or nothing about the print finishing business we had to learn fast AND we had to introduce a new work force to specialist print finishing and hand finishing skills.
Print Finishing Company becomes Hand Finishing Specialists
In order to develop our print finishing opportunities, in 1993 we moved into bigger premises and hired our first workers. Most are still with us today and are now probably amongst the best hand finishers in the print finishing business. In the early days most of our work came from local printers comprising of relatively simple print finishing jobs such as eyeletting, hand collating, hand folding, hand inserting, hand assembly and making up folders. These were and still are our most common hand-finishing jobs. However, simple though these print finishing jobs may be, they still need to be handled with care and attention. The most important skills associated with becoming a good print finisher and hand finisher are neatness and accuracy and our girls came from a background where these skills were second nature. The footwear industry in our Valley was in decline and we were lucky enough to have a versatile workforce on our doorstep.
It is the professional hand finishing skills of this workforce coupled with our ability to meet deadlines that are expected of the print finishing trade that has given Whitney Woods its reputation as being one of the most highly regarded specialist print finishers in the UK.
Whitney Woods - hand finishers to the print trade since 1992 – and still going strong! Not many print finishing companies can make that claim.
Eyeletting – Spinners, Wheel Charts, Colour Charts, Parking Discs and Swatches
In the early days our eyeletting machines were always busy working away eyeletting tags or swing tickets. Whilst we still do a lot of tags and luggage labels, the biggest part of our brass eyeletting capacity is given over to the production of spinners, calculators, wheel charts, circular information charts and parking discs. These usually consist of 2 or 3 discs being hand collated and fastened together at the centre with one eyelet or, as with parking discs, a disc is captured in a sleeve using a combination of eyeletting and spot gluing. However, these are not the only examples of eyeletting as we also create swatches using eyelets. Decorative binding can also be done by eyeletting the pages in the margin and we can also use eyeletting as a way to capture elastic to create a closing device on pocket jotter pads. These processes are explained more fully in the eyeletting services section.
Gluing Services - Double Sided Tape, Glue Dots, Hot Melt Gluing and Hand Gluing
As time has moved on we have covered a massive variety of hand finishing work and we have worked with many different materials. Take hand glueing as an example. We use double sided adhesive tapes, spot gluing with PVA glue, hot melt glueing applications, peelable labels, self adhesive backed products such as magnets and stick-on pockets. There have always been massive differences in the size of hand gluing jobs, from, say, making up 500 folders to affixing 500,000 membership cards to leaflets using peelable glue dots but, if we can fit it in to our busy timetable, we will handle print finishing jobs both large and small.
Leaflets, Folders and Small Booklets – Cover Mounts, Tip Ons, Add Ons and Inserts
The fastening of extras to leaflets and folders is an area of print finishing which often involves hand gluing. Typically, a tip in or tip on might be an application form or an NCR set which needs to be tipped onto the inside back cover of a folder. To do this we might spot glue one corner using pva glue. Cover mounts can come in many guises which are most often affixed using a peelable adhesive – usually a glue dot. Sticky dots are also used for other add ons such as membership cards. However, not all additions are fastened into a booklet or folder and loose inserts can be special offer coupons, application forms or tickets – and often hand inserting is the only solution. Please note that we will not undertake to fasten inserts into large magazines, books, catalogues and other such examples of donkey work!
Self Adhesive Products – CD Studs, Magnetic Strips, Card Holders and PVC Pockets
Another area which comes under the banner of print finishing services is the sourcing and supply of additional items which can act as fasteners or embellishments. A common example is supplying and affixing CD studs or CD spiders. Self adhesive magnetic strips are a popular closing device as well as being used to convert a printed card into a fridge magnet. Little plastic bubbles called Jiggle Eyes can be added to promotional literature to add an element of fun. Clear PVC card holders are often added to presentation folders to allow the customer to personalize the product. There are lots of other print finishing products – pen clips; wobbler arms; pvc pockets; self adhesive Euro slots and Euro hooks for example – all of which are affixed by hand under the heading of print finishing.
Paper Drilling and Hand Collating the Thumb Indexes and Page Collation for 4 Hole Ring Binders
Hand collating is often necessary when preparing the contents of a ring binder. Collating machines and thumb index cards are not good bedfellows and hand collating is often the only solution. We stack each individual page and index on the work benches then check the running order against a master copy before starting hand collating. This consists of walking round the work benches gathering one sheet at a time to complete the hand collation prior to "knocking up" ready for paper drilling.  Our 4 hole drilling operation is used almost exclusively to drill paper and thumb indexes which have been hand collated ready for inserting into 4-ring binders. We also have another paper drill for dedicated 2 hole drilling which is used for the hand collated sets to go into standard 2-hole A4 ring binders. The single hole paper drill is used mainly for tags, swing tickets and luggage labels. The paper drilling machines are kept very busy throughout the year.
Marketing Services – Making up Information Packs, Promotional Packs and Kitting Service
We are often asked to make up kits containing various items of printed material. This could be an information pack or hand outs for an exhibition and it is often done in conjunction with assembling presentation folders where we make up the pockets and then insert the leaflets. However, ad agencies, marketing agencies and corporate gift houses have taken this to another level and we often enter the realms of contract packers where we make up bespoke promotional packs containing promotional items such as T-shirts, posters, key rings, pens and so on. All of this work comes under the banner of marketing services and hand packing.
Direct Mail – Hand Enclosing and Mail Fulfilment
We offer a comprehensive direct mail fulfilment service to complement our print finishing services. As you would expect for a specialist hand finisher, all of the mail is handled manually. To see all of the direct mail services on offer click on the link to our sister site www.mailbyhand.co.uk
Print Finishing company based in East Lancashire with customers throughout the UK
In the early days most of our customers were quite local to us, mainly coming from Lancashire and Greater Manchester. As our reputation as specialist hand finishers grew so our customer base spread throughout the North West, Cheshire, Yorkshire and Staffordshire. Nowadays we have customers throughout the UK – from Scotland, Wales, North East, Midlands and the Southern counties. We use reputable local and national overnight haulage contractors for deliveries.
We believe that if a job is worth doing, then it's worth doing right.