Eyeletting Services
Finishing Services
Other Links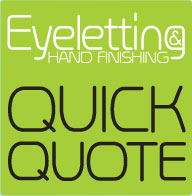 HAND GLUING SERVICE
Hand Gluing Services
One age-old example where hand gluing may be required is the creation of pockets in information folders where pockets with a capacity are done by hand. The folders will be supplied flat, cut and creased by the printer and we will add a strip of double-sided adhesive tape to each of the "glue flaps". We then fold along the creases and neatly fasten the pocket, usually to the inside back cover of the folder, before packing into suitable boxes.
Peelable Adhesive Might Offer Best Results
Affixing "extras" to leaflets, folders, letters or booklets is a gluing job. These "extras" are variously referred to as cover mounts, tip-ins, add-ons and tip-ons and often take the form of membership cards, vouchers and coupons. Cover mounts are affixed using a peelable adhesive, usually a glue dot, so that the cover mount can be removed without damaging itself or the printed page. However, a customer may dictate that a spot of permanent adhesive is required for the hand gluing operation and PVA might provide the solution.
PVA Glue May Not Be Suitable
Greeting card insets are an example where a permanent adhesive is required to hold the centrefold greeting within the 4-page card outer. Hand gluing could once again involve PVA but a strip of double-sided adhesive tape might be more suitable. PVA is an emulsion in water and can leave a visible "scar" due to shrinkage when the water dries out. This effect should always be considered when specifying PVA adhesive for use on paper or board.


Hot Melt Adhesives
When a hand gluing job entails working with robust materials such as corrugated board or heavy box board it is advisable to work with adhesives that offer strong, instant adhesion such as hot melt adhesives. The choice of hot melt glue is critical, ensuring that it has sufficient "open time" to allow time for the application of the adhesive and to ensure that it gives instant, strong adhesion when "closed".


Laminated Finishes and UV Varnish can Create Hand Gluing Problems
In all instances it is essential to discuss your hand gluing job thoroughly with our estimators to ensure that the correct job spec is arrived at before asking for a quote. Laminated finishes and UV finishes require special adhesives and sometimes it is advisable not to use them at all.

Adhesive Tape
As well as gluing we can also affix double sided adhesive tape to your items if required. Whether we are taping two parts together, or just affixing tape to one part and leaving the waxy backing on, it's not a problem. Our standard tape thicknesses are 6mm, 9mm and 12mm as well as 6mm with 12mm 'finger lift' backing.
So remember, discuss the full spec of the job when asking for hand gluing prices.