Eyeletting Services
Finishing Services
Other Links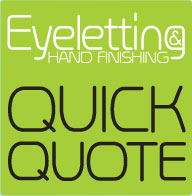 Eyeletting Presentation Folders and Document Folders
Eyelets Used as a Fastening Device on Presentation Folders and Document folders
When elastic is used for making a fastening device to close the cover of a presentation folder, document folder or a notebook, the ends of the elastic are captured between the curve of an eyelet and the hole in the cover and secured when the eyelet is closed.
Eyeletting is also used when two "washers" are affixed to the presentation folder or document folder and a piece of string is captured. The string makes a "figure 8" around the washers to close the folder.
Eyelets are also used to simply strengthen holes in presentation folders and document folders.
What we need from you – die cutting, stripping out and all holes cleared
Each piece of your product must be supplied to us as singles - ready die-cut or trimmed to size - and preferably with holes for the eyelets. We require you to supply all pieces stripped of any waste with waste being cleared from all holes. If you don't do it, we will have to charge you for this time consuming process.
Hole information
The hole size is to be 5mm diameter to accommodate standard stationery eyelets. However, if your job calls for a special eyelet then this must be discussed with one of our senior estimators.