Eyeletting Services
Finishing Services
Other Links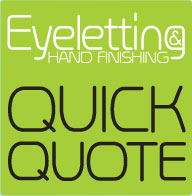 WHEEL CHARTS & PARKING DISCS
Spinners, Wheel Charts, Parking Discs, Comparison Charts
Product styles
Eyeletted discs, parking discs, wheel charts, information discs and promotional discs are our speciality eyeletting job. The most standard format for wheel charts and promotional discs is to have 2 or 3 discs collated and fastened at the centre with a nickel or brass eyelet. The construction method for parking discs is where a disc is placed within a 4-page cover and fastened with a brass or nickel eyelet. The two open corners of the parking disc are usually spot glued to close the cover. Other variations are handled quite regularly.
What we need from you – die cutting, stripping out and all holes cleared
All discs and parking disc sleeves must be supplied to us ready die-cut. We require you to supply all pieces stripped from the sheet with waste cleared from all holes. If you don't do it, we will have to charge you for this time consuming process. Each piece that is to be eyeletted must have a hole at the centre to accommodate the nickel or brass eyelet.
Guide for hole sizes for promotional discs, wheel charts and parking discs
Holes on promotional discs and wheel charts would normally be 5mm diameter if the eyeletted disc is to have a fairly stiff turn. For the disc to have stiff turn and hold, sometimes a 4.5mm diameter is advised. A hole diameter of 5mm is required for parking discs and parking disc sleeves.
Optimum size for promotional discs and wheel charts
The most user-friendly size of eyeletted promotional discs and wheel charts is not much bigger than 200mm diameter. These are also cheaper to eyelet than big ones. Our eyeletting machines can handle discs with a diameter up to approx 400mm. Before you submit such monsters for production, ask how they will be sent. They are too big for an envelope!
Packing of discs fastened with eyelets
Eyeletted discs are awkward to pack being both circular and having a metal lump in the middle! We do pack very carefully but we also warn customers about damage which may be caused by movement in transit e.g. the eyelet marking the adjacent disc. We can interleave each disc to help minimize any damage but there IS an extra charge for interleaving.